Register a.properties domain name
The .properties top-level domain is tailor-made for the real estate business, providing a uniquely marketable namespace for realtors, brokers, property management companies, and sellers who deal with multiple pieces of property. It's also a great naming choice for technology and science websites, signifying a place to learn about the attributes of a new technology or the materials used to make a certain product.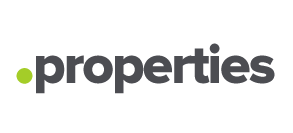 $34.95 per year

.properties Domain Pricing
| REGISTRATION | RENEWAL | TRANSFER | REGISTRATION PERIOD | REDEMPTION PERIOD |
| --- | --- | --- | --- | --- |
| $34.95 | $34.95 | $34.95 | 1-10 yrs | 30 days |
Find your perfect domain with the .properties TLD and add these upgrades to the cart at checkout
Optional free add-ons included with every .properties domain registration
Domain DNS Hosting
Free lifetime DNS!
Email Forwarding
Redirect to your email address!
Domain Theft Protection
Protect your Domain!