Register a.press domain name
.PRESS, is designed to be a dedicated namespace for both journalists and editors. From journalists, bloggers, and media professionals to news corporations and publishers, .PRESS gives individuals and organizations a meaningful platform to share opinions, disseminate information, and influence their audience. .PRESS targets a wide range of free press-supporting content creators – from journalists and bloggers to news portals and publishers.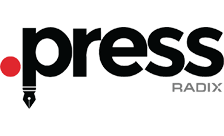 $149.95 per year

.press Domain Pricing
| REGISTRATION | RENEWAL | TRANSFER | REGISTRATION PERIOD | REDEMPTION PERIOD |
| --- | --- | --- | --- | --- |
| $149.95 | $149.95 | $149.95 | 1-10 yrs | 30 days |
Find your perfect domain with the .press TLD and add these upgrades to the cart at checkout
Optional free add-ons included with every .press domain registration
Domain DNS Hosting
Free lifetime DNS!
Email Forwarding
Redirect to your email address!
Domain Theft Protection
Protect your Domain!