Register your .faith domain name
Faith is universal among all of the worlds religions. At the core of each religion is a strong foundation of faith. With a .FAITH domain you can bring that faith online to a dedicated, easily accessible location for global Internet users with an interest in any faith. The Internet has accelerated access to all kinds of information including local, national, and global religious beliefs and faiths. Members of religious organizations seek to be able to readily access information and services related to their faith and a .FAITH website puts this information right at their fingertips. Get your religious organization, church, or even personal website online now with a unique .FAITH domain!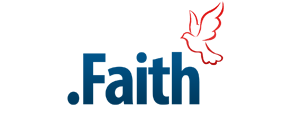 $39.95 per year

.faith Domain Pricing
| REGISTRATION | RENEWAL | TRANSFER | REGISTRATION PERIOD | REDEMPTION PERIOD |
| --- | --- | --- | --- | --- |
| $39.95 | $39.95 | $39.95 | 1-10 yrs | 40 days |
Find your perfect domain with the .faith TLD and add these upgrades to the cart at checkout
Optional free add-ons included with every .faith domain registration
Domain DNS Hosting
Free lifetime DNS!
Email Forwarding
Redirect to your email address!
Domain Theft Protection
Protect your Domain!