Get your .vet domain extension
.VET is a unique and versatile domain extension that caters to both military veterans and veterinarians. It is the perfect domain to represent who you are and the values you uphold.
For military veterans, a .VET domain is a powerful way to connect with fellow veterans and share your experiences online. With your .VET website, you can showcase your patriotism and service, network with other veterans, and build a strong community of like-minded individuals.
For veterinarians, a .VET domain is an excellent way to establish a strong online presence and connect with pet owners. By using a .VET domain, you're demonstrating your commitment to animal care and compassion. Potential customers will recognize your dedication to pet health and welfare, making it easier for them to find and trust your business online.
With .VET, you can also take advantage of the many benefits of having a unique and memorable domain name. Your website will be more easily recognized and remembered by visitors, making it easier for them to return to your site or recommend it to others.
In summary, a .VET domain offers a unique opportunity to showcase your identity, values, and commitment to excellence. Whether you're a military veteran or a veterinarian, a .VET domain is the perfect choice for building a strong online presence that connects you with your target audience. Get your .VET domain today and start building your online identity!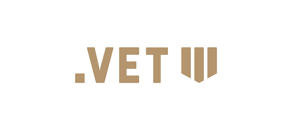 $49.95 per year

.vet Domain Pricing
| REGISTRATION | RENEWAL | TRANSFER | REGISTRATION PERIOD | REDEMPTION PERIOD |
| --- | --- | --- | --- | --- |
| $49.95 | $49.95 | $49.95 | 1-10 yrs | 36 days |
Register .vet and add these upgrades to the cart at checkout
Optional free add-ons included with every .vet domain registration
Domain DNS Hosting
Free lifetime DNS!
Email Forwarding
Redirect to your email address!
Domain Theft Protection
Protect your Domain!