No longer restricted to just Ireland, anyone can register .ie
Thanks to its very favorable business climate and flourishing digital market, Ireland ranks amongst the most thriving economies in Europe. Facilitated by its ever-growing youth population, Ireland has become home to a number of business startups, small businesses and international tech giants. Among the key sectors of the Irish economy are information technology, software and engineering. Apart from the remarkable business growth, Ireland boasts a progressive digital market with an impressive 93.8% of Internet-connected households.
The .ie country code top level domain is intended for websites related to Ireland. Since restrictions have been lifted, the .ie domain can now be used for anything without the previous terms and conditions. You no longer need to have a registered business in Ireland to own a .ie domain. The domain name registry that controls has recently opened up .ie to anyone with just a connection with Ireland. While it might help your website visitors know that you're located in Ireland, it might also help improve local rankings in search engines too. Find your .ie domain by doing a search in the search box (search bar) above.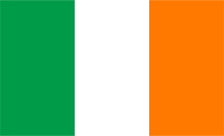 $33.95 per year

.ie Domain Pricing
| REGISTRATION | RENEWAL | TRANSFER | REGISTRATION PERIOD | REDEMPTION PERIOD |
| --- | --- | --- | --- | --- |
| $33.95 | $33.95 | $33.95 | 1-10 yrs | 36 days |
Find your perfect domain with the .ie TLD and add these upgrades to the cart at checkout
Build a site
Easily build a website with our Website Builder and rank higher in the island of Ireland.
Optional free add-ons included with our .ie registration services
Domain DNS Hosting
Free lifetime DNS!
Email Forwarding
Redirect to your email address!
Domain Theft Protection
Protect your unique domain!