Register a .app domain name
Any succesful app, will also need a website. Finding a domain name can be a challenging task when moving your app to its own online space. Fortunately, the .APP top level domain TLD is available! It may be hard to find the right domain name on other domain extensions, but .APP is new and its the perfect domain extension for apps because "app" is already built in. It will make it easier for people to find download links or your app store listing with a custom domain name just for app developer. Get your app's name on the .APP domain today!
Empowered by HTTP Strict Transport Security (HSTS), ".app" is the first and only public domain name hit the market and have built-in secure socket layer (SSL) protection. Since Google purchased the .app extension in 2015 for $25 million. The .app top-level domain is included on the HSTS preload list, making HTTPS required on all connections to .app websites — no individual HSTS registration or configuration required. The result is built-in 100% web security for you and your users.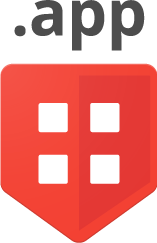 $24.95 per year

.app Domain Pricing
| REGISTRATION | RENEWAL | TRANSFER | REGISTRATION PERIOD | REDEMPTION PERIOD |
| --- | --- | --- | --- | --- |
| $24.95 | $24.95 | $24.95 | 1-10 yrs | 30 days |
Find your perfect domain with the .app TLD and add these upgrades to the cart at checkout
Optional free add-ons included with every .app domain registration
Domain DNS Hosting
Free lifetime DNS!
Email Forwarding
Redirect to your email address!
Domain Theft Protection
Protect your Domain!