Register a .ch domain name
The domain ccTLD for Switzerland, has been available in the domain name system since 1987. Derived from Confoederatio Helvetica (Helvetic Confederation), the Latin name for Switzerland, this domain is the country-code top level domain (ccTLD) for this European country. Unlike generic top level domains, such as .com and .net, a .ch domain shows that you have a base in Switzerland with a country-specific purpose. Registering a domain with .CH can help you connect with a Swiss audience and show your visitors that you reside in or operate your business in Switzerland.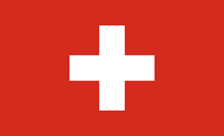 $24.95 per year

.ch Domain Pricing
| REGISTRATION | RENEWAL | TRANSFER | REGISTRATION PERIOD | REDEMPTION PERIOD |
| --- | --- | --- | --- | --- |
| $24.95 | $24.95 | $24.95 | 1-10 yrs | 30 days |
Connect with your Swiss audience and add these upgrades to the cart at checkout
Optional free add-ons included with every .ch domain registration
Domain DNS Hosting
Free lifetime DNS!
Email Forwarding
Redirect to your email address!
Domain Theft Protection
Protect your Domain!