Skype for Business
Now included with Hosted Exchange at Thexyz.
PSTN conferencing
Use a dial-in number to join Skype meetings from any device, dial out to bring participants into the meeting.
Up to 250 participants
Allows for unlimited meetings per month no matter where your participants are.
Connected Meeting Experience
Create documents with style; polish work with others easily and enjoy a new reading experience on modern devices with instant messaging.
New Skype Meeting Broadcast
Reach up to 10,000 attendees for very large meetings. Attendees can join from virtually any web based browser and device.
Cloud Meeting Recording
Record Skype for Business meetings, including audio, video and shared content, and store and publish in OneDrive for Business or other locations.
PCs, Tablets or Phone
Anywhere access with all your communications and collaboration in one place.
Secure encryption with corporate security policy compliance
The solution for a business class corporate email system to manage your organizations sensitive information. An advantage to Exchange over Office 365 is that it is portable and data can be moved between providers, where as Office 365 is solely on the hosted by Microsoft. We have also produced a guide to show the key differences between Office 365 and hosted Exchange.
Enterprise Grade Security
A perfect small business email solution that meets enterprise security requirements.
AES encryption
Archives both internal and external mail securely (AES military strength encryption) to 8 redundant data centers.
Accessibility
Email accessible as online view, PDF, message download, or PST download.
SAN Storage
Fiber channel connections for network/SAN storage.
Realtime data
Active directory data is accessible and searchable in real time 24X7.
Scan attachment metadata
All message content, attachments and metadata are stored and fully indexed.
Compliant Email Archiving for Hosted Exchange Server
Thexyz Email Archiving keeps a record of all transactions, examinations, reports and information held in email messages. Leveraging a reconciliation with Thexyz Email and Exchange Server 2016, all conveyances are caught, reproduced and archived securely, permitting administrators to search and recover information from any archived representative mailbox by date, names, information, and key words in messages and connections.
Daily Email Backup
Rapidly and effectively recoup lost or erased messages and connections, secure years of association transactions and correspondences. Copy messages from users mailboxes without having to manually download pst files. Simply check the email archiving upgrade box on the order form to enable email archiving for your domain.
Email Archiving
Preserve every inbound and outbound email and file attachment in the secure and dynamically scalable archive. All incoming and outgoing email with be backed up to an additional portal with unlimited archiving storage. No longer will users need to manage an archiving folder as email archiving works without any user action needed.
Data Retention Policy
Rapidly and effectively recoup lost or erased messages and connections from the recoverable items folder. Secure years of association transactions and correspondences with an auto expanding archiving solution that includes unlimited cloud storage.
Automatic Restores
It is possible to recover deleted items for 14 days only if the Exchange online archiving upgrade is not enabled. With the archive feature enabled, an unlimited amount of incoming and outgoing email will be archived. Any deleted mailbox can be fully restores with all contents from the time of terminiation. There is no software to install or hardware to maintain.
On-premise vs. Hosted Exchange in the cloud
Still on an older version of Exchange or hosting an instance of Microsoft Exchange server in house? When your company domain has email hosted within our environment, it is possible to have both Exchange users and Thexyz email on the same domain. This way you can reserve hosted Exchange for your users primary mailbox and management team. Having Exchange services only for use primary mailboxes also allows for significant savings compared to other platforms such G Suite or Office 365 which do not allow this hybrid flexibility.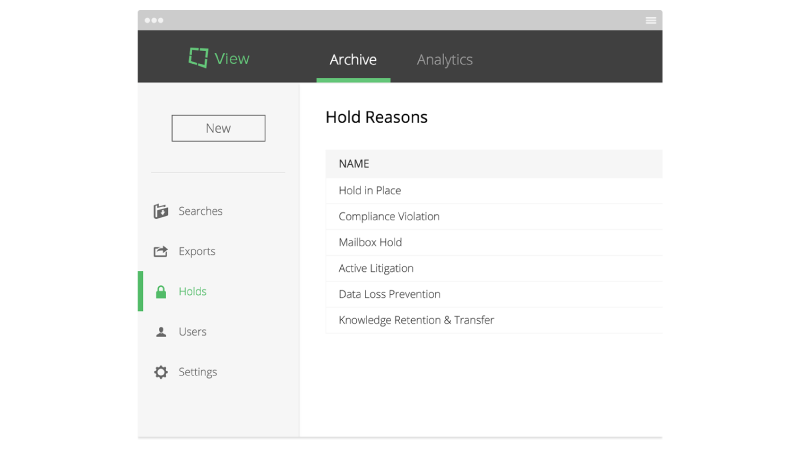 Our Exchange server consultants can provide a plan to move to a cloud based Microsoft Exchange Server with 100% uptime guarantee and full disaster recovery options and managed services, because we know email is mission critical. Each new release of Microsoft Exchange comes with improved capabilities to enhance business communications and productivity. But it also requires having increased specialization in managing the platform. When considering any on-premise email solution, the following areas must be optimized to ensure that the system is robust, secure, and able to offer users the functionalities and end-to-end availability they need to work productively.
What level of performance and uptime can be achieved in-house?
Are you comfortable with not controlling your maintenance?
How robust are your infrastructure and security policies?
Let our expert consultants manage your exchange migration.
Email Clients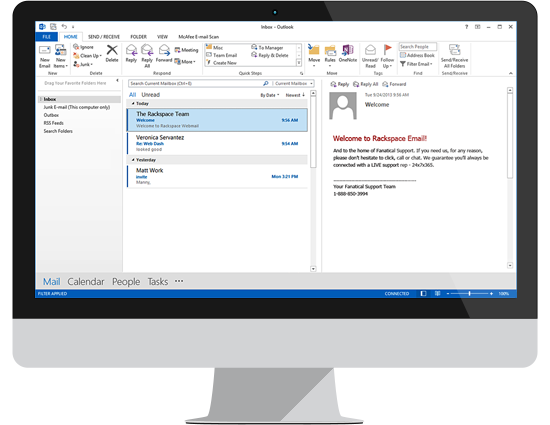 Our Microsoft Exchange solution and Outlook® were made for each other. Realize the power of Exchange with all the features and functionality of Outlook from your desktop. Not using Outlook? Access via desktop through emClient Thunderbird®, Mac® Mail, or any other POP or IMAP desktop and ActiveSync compatible software.
Delegate access and folder permissions
Get powerful scheduling tools
Use Outlook to check and send email for multiple Exchange accounts, as well as Hotmail, Gmail, and more
Web-ready document viewing lets you see email attachments, even if you don't have the installed software
Exchange Online with the Outlook Web App (OWA)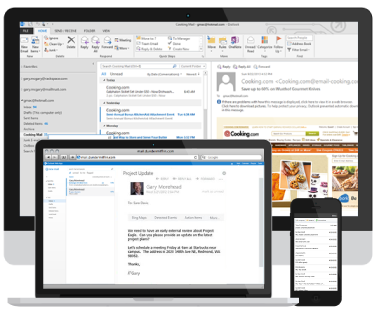 The familiar look and feel of Outlook, from any computer. Outlook Web App lets users log in and manage email, calendars, contacts, and tasks from any web browser, with instant updates.
Create meetings, accept invites, and view shared calendars with OWA
View and organize contact and distribution lists from the OWA Contact Manager
Compile email addresses, mailing addresses, attachments, and notes for each contact
Track, manage, and organize tasks with the same task management functionality as Outlook
Create reminders, set priority, and share tasks with other members of your team