If you ask any employee today, they will often complain that email is the blight of their workday. They are often overwhelmed and do not know how to deal with email effectively. These tips below can be applied to a heavy email user that is constantly keeping an eye on their inbox and responding to email all day to someone who just checks email once a day.
Create subfolders under inbox
If you receive a lot of mail from one person on an almost daily basis, you could automatically filter any mail from them into a subfolder. This way when they ask if you received the email from last Tuesday at lunchtime, you can easily check without having to go through all your emails. The folders also work great if you are doing business with a particular website. You could create a folder for the website any mail sent from that domain is automatically filtered there. It is also easy to move mail into folders to better organize and keep your inbox clean.
Marketing consultant Zach Hanlon writes on Fast Company that you should reconsider your arrangement, and opt for five main folders.
That will help you avoid the two biggest mistakes people make: organizing e-mails into folders based on topics (unfortunately, e-mails rarely stay on track) and using the inbox as a to-do list.
Your five folders should be:
Inbox: This is a holding pen and the e-mails should be transferred as soon as possible to another, more appropriate folder. The exception is when you respond immediately or are waiting for an immediate response.
Today: This covers everything that requires a response today.
This week: Everything needing to be handled before the end of the week is transferred here.
This month/quarter: This houses e-mails that need a longer-term response. For some roles, a monthly folder fits while for others a quarterly folder does the trick.
FYI: Most items Mr. Hanlon receives are informational and, if he thinks he may need to refer to the e-mail again, it goes in this folder.
Create email aliases
An email alias is like an additional email address that can be added or removed to avoid exposing your real email address. This can be exceptionally handy for handling multiple email addresses within one email account. Maybe you don't want to give out your real email address, but need to ensure that you receive the emails sent to that address. This is just one example of when an email alias is suitable.
Creating an email alias has never been easier, will the help of free tools, such as our GroupList app, anyone can quickly and easily create a permanent email alias that will forward to an existing email address. There is no cost or signup required.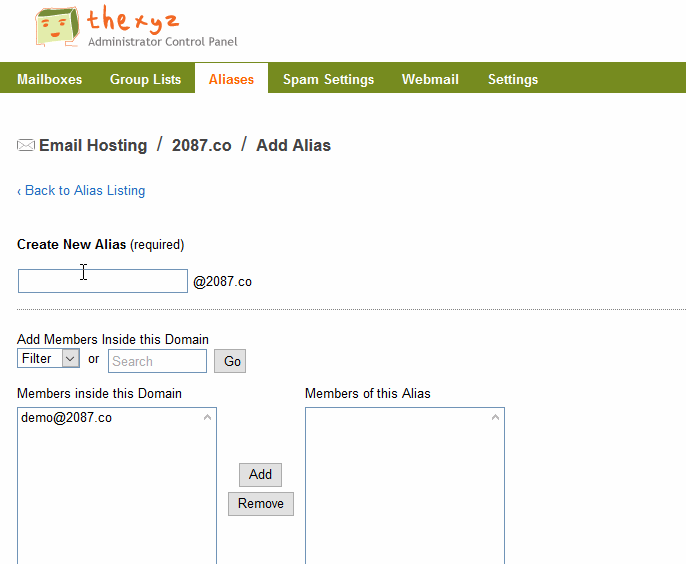 Unlimited aliases and auto-aliases 
If you're already using Thexyz for email, then why not take advantage of the unlimited email aliases included with each and every email hosting plan. People who use one of Thexyz domains (xyz.am, thexyz.com, thexyz.net, 9mail.org, zooglemail.com, etc) can also make use of auto-aliases.
An example of how to put aliases to good use
Let's use the social networking site LinkedIn as an example as it has a dismal record when it comes to security and privacy. LinkedIn has been breached and hacked so all user data is openly available on the dark web. There are also options for people to pay LinkedIn to extract personal information from its users. For these reasons, you should never use your real email address on a site like LinkedIn. Instead use an email alias. It takes a few minutes and doesn't cost a penny. Create something like firstname-linkedin-mail-inbound@grouplist.io that forwards to your main email address here. You can then filter messages sent to that address into a specific folder. All messages that start something like: "I am reaching out after seeing your profile on LinkedIn"  or work anniversaries will be spared from polluting your inbox.
Use an email calendar
Email calendars are very powerful tools and often highly universal. Integrating with a variety of different devices and applications. They are secure and tied to your email account,  so if you lose your mobile phone or upgrade your computer, then you can rest assured that your email calendar will still be available. Many CEO's and successful, or motivated people credit their achievements to the organization, setting goals, and making appointments like this are a great way to start. Within an email calendar, you can categorize tasks and events by color, set them to occur over a weekly, monthly or annual basis. You can also set reminders through email or SMS and invite others via email to a calendar event.
Shoot for a zero inbox
It is a lot easier said done. The idea is that every email received should be dealt with. Either deleted, archived in the appropriate folder, or marked as spam. This is a great practice to get into, the key to success here is to have your subfolders create to store any mail you wish to archive. Having a good spam protection tool will also help. Thexyz offers multiple layers of spam protection to ensure you will have a clean inbox that can also be a great help in keeping a zero inbox.
Make use of email autoresponders
Whether you are going on vacation or dealing with a high spike in incoming email,  an autoresponder will help get the message out by automatically sending a message to everyone that sends a message to you. You can read more about setting up an auto-reply message for incoming email.
Set up email filters
As mentioned above in the "Create sub-folders" section, I will mention it again as these automated rules really help, create some email filters.
Email filters are like automated rules that, if implemented properly, will save you time and allow you to focus on important emails. As I have mentioned in this post already, you can automatically sort mail based on certain rules such as the sender, subject, included works in content, and so on. These messages can be automatically delivered to a specific folder and automatically sorted.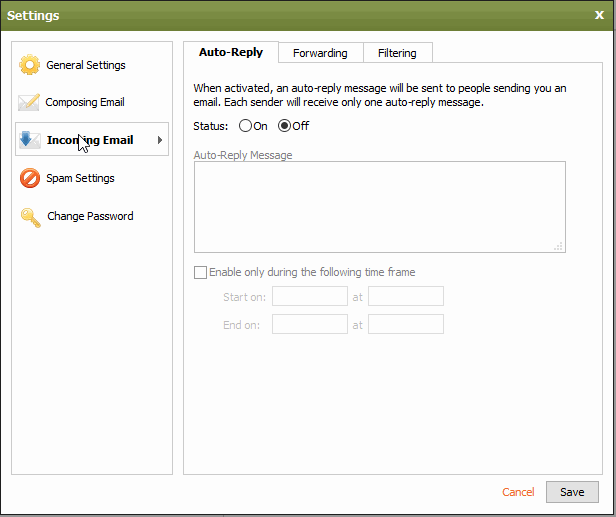 Keep on top of your spam settings
Spam levels have dropped a lot over the past few years thanks to the effort of multiple spam detection tools. Phishing and spoof emails have become a larger problem today. It is still important to manage, and you can do so by, reporting the spam and block the sender from being able to penetrate your neatly organized inbox again. You can block a whole domain, email address, or IP address via the spam blocklist.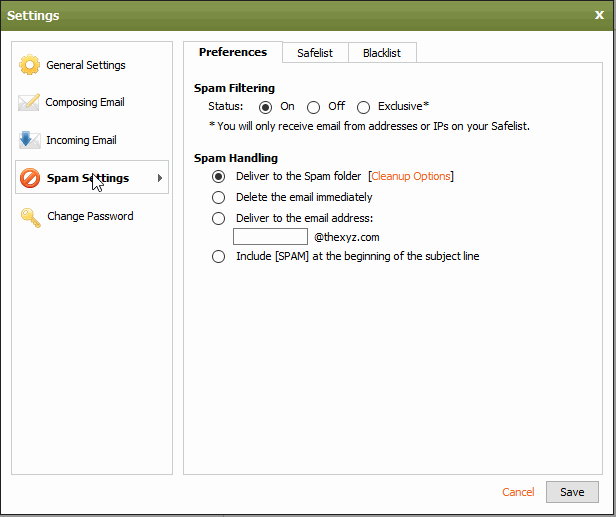 Learn the difference between spam and phishing
Spam is annoying and a big problem. Phishing and spoofs are often taken more seriously as they involve fraud. We have produced a spam test to help people see if they can recognize the difference between spam and phishing emails.
Create a subfolder for bacon (BACN)
BACN is not a food but email, unlike spam it is email that has been subscribed to and is therefore not unsolicited. Over the past few years, advances in spam detection have to lead to a reduction in the amount of spam making it to your inbox. Email marketers are now sending more mail than ever before to members and subscribers. These daily or weekly emails can take up much of your inbox. You probably don't want to keep them all, and at the same time, not send them all to your spam for easy purging. Instead, create a folder called 'BACN.' You can then use filters to divert these newsletters and notifications to the BACN folder to find all these non-essential emails in one place. It can also be easily deleted.
Do you have any email management tips? Feel free to post a comment below.