With our private email service, it allows you to recover permanently deleted emails for up to 14 days. Even after you've emptied the trash it is possible to perform email recovery without email recovery software or Outlook PST files. 
If you have lost an important email or are looking for or to recover a deleted email that may have been automatically deleted, the first place to check is the Trash folder, usually, when an email is deleted it will end up in the trash, even if you accidentally delete an email message. If the trash has already been purged or emptied, there is a feature in Webmail that will allow you to recover any permanently deleted message for up to 14 days. This is helpful if you have accidentally deleted an email or need to recover a lost email. First, you should verify the missing items are not in Trash,  deleted items folder or another folder. If you are sure you have already emptied the trash folder and cannot find the email in the trash, or the junk email folder, then read on the see how it can be recovered so you can retrieve deleted emails. 
Step by step instructions for recovering deleted email in Webmail:
Right-click on the Trash folder when logged into Webmail.
In the context menu, click on "Recover Deleted Email…" to open the recoverable items folder.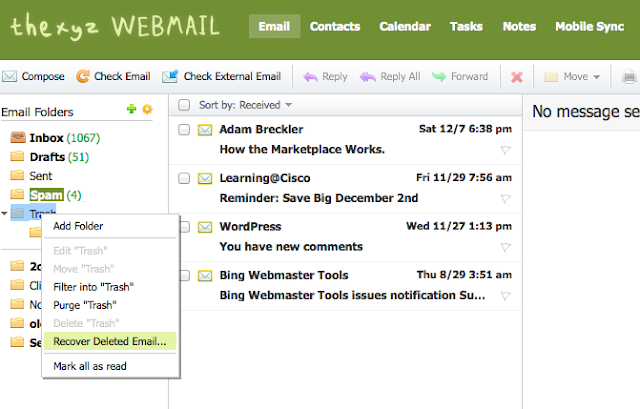 3. To recover deleted items select the email message(s) that you want to recover (note: you can recover deleted message for up to 14 days, even after they are deleted from the trash). This can be done by checking off the checkbox to the left of the email to select the deleted message/s you wish to recover.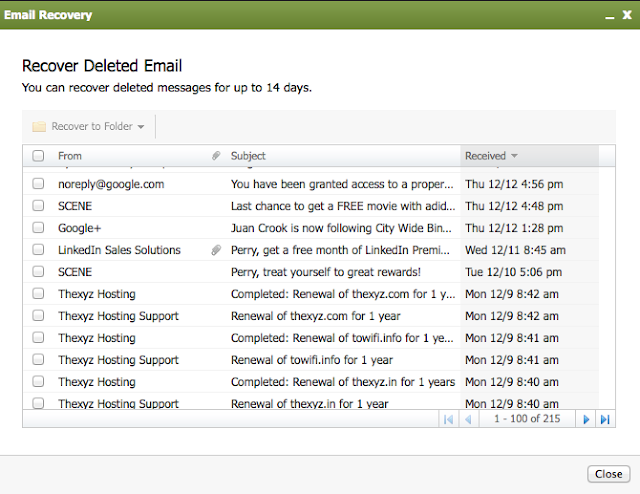 4. Once you have finished selecting messages to restore, click on "Recover to Folder" to recover email messages. 
5. Select the folder you want to move the messages to. You can restore deleted emails to any folder.
6. When you see the confirmation "Message(s) Recovered" you are done.
Through the recover deleted email tool, there is also the option to restore only one email if you wish. Just find the email you wish to recover and click restore.
If you need further assistance recovering messages, please contact the support team.