Update: We now have an easy on-boarding tool to help you select the right plan and see if you qualify for a free website building live session here.
As many state leaders enact "shelter in place" lockdown orders, Thexyz continues to be in a strong position to deliver the support and reliability that you rely on. We want to do our part to help you stay you adapt to a world increasingly reliant on online communications.
Over the past few weeks, since we announced our initial Covid-19 response, we have helped many businesses quickly adapt to a changing reality. We have had to increase our anti-abuse measures to help fight the significant increase in Covid-19 relates scams, as well as accelerate many migrations to cloud solutions. I have personally spoken to many business owners that have had to rethink their business models and quickly adapt to online ordering to remain in business during this time.
A conversation that comes to mind is one I had with Mark, who is a local restaurant supplier in Toronto of specialist foods. Almost immediately orders dried up and he knew he had to adapt the business, to stay in business. By quickly creating a Weebly website, Mark was able to shift the business from a focus on restaurants to delivering food hampers to residential customers. Grow, Gather and Co is a great example of how a business can adapt to online ordering.
By utilizing free tools at Thexyz, anyone can quickly transition to an online business. This post will show the process of using Thexyz to build a free website, get free security tools, free product trials, free SSL, free email aliases, and free group lists.
Build a website for free with Weebly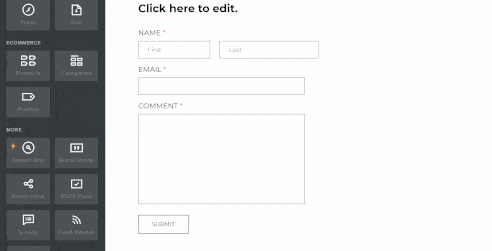 Weebly is a well-known website building tool that has been around for a while. Due to its stable functions and numerous integrations, Thexyz integrated with Weebly last year to offer Weebly plans both hosted with Thexyz and Weebly. We also offer a free plan that is great for people to test out the builder and see how easy it can be to build a website in minutes. When you sign up for Weebly with Thexyz, even on the free plan, it will ask you for payment information, although the total is zero. To avoid entering credit card information, select payment with PayPal or Bitcoin and the order should be automatically set up. We are working to have this process smoothed out in the near future.
Start accepting payments online without monthly costs
Weebly is owned by a payment processing company, Square. They also offer integrations with Stripe and PayPal. While PayPal is not included in the free version, Stripe and Square are. Both of these processors are very easy to set up and do not have any monthly fees.
Flat rate credit card processing fees
Another great thing about using Stripe or Square is they both offer flat rate transaction fees. Using a traditional payment processor (Elavon, Moneris, Chase, First Data) will see transaction fees fluctuate as well as a monthly fee. Stripe and Square are much easier to set up and you will know exactly how much you are paying on each transaction through your online store.
Stripe and Square payment processing fees
2.9% + $0.30 per transaction fee and no monthly fees
Using either Stripe or Square will allow you to accept all major credit cards on your website and have them automatically paid into your bank within 1 to 2 days. On the free account, Weebly will charge an additional 3% for Stripe transactions so it will be best to go with Square to avoid paying the added transaction fee.
Steps to building your free website
Sign up for the free Weebly plan (remember to select a payment method although it will be free)
Build your site with drag and drop web-based editor
Signup for Square to add payment processing to your website
Point your domain name DNS to Weebly
Publish your website to the web with the click of a button
Can a business really get by with the free version of Weebly?
Yes. This has most of the features any business will need. Some of the limitations of the free plan include:
Only 4 products
Powered by Weebly & Thexyz link in the footer
Free SiteLock security seal

Online shoppers are becoming increasingly concerned about security, and for good reason too. As a website owner, it is important to take a proactive approach as opposed to a reactive security approach. In today's world, internet security is not something that can be set and forgotten but rather constantly worked on, thought about and fine-tuned.
A free SiteLock security seal is available to existing customers of Thexyz. Once you have signed up for your free Weebly plan at Thexyz, you will be a customer and therefore have this security seal available to you for free. This seal will help to instill trust in your website when customers make purchases online.
Free SSL certificates
Thanks to the Let's Encrypt certificate authority, you can quickly issue and install SSL certificates through the Hepsia web hosting control panel. Signup for a 30-day free trial to see all the powerful website applications available through a quick automatic installer.
Free email aliases and group list
Our new email marketing app is now actively used each day and has some handy free options that have no branding or breaches of your personal privacy.
Why use an email alias?
Email aliases are great and we have long been advocating for people to adopt using email aliases. An email alias will shield your real email address from public view. For example, emailaliasuser384@grouplist.io could be created to send emails to your existing Gmail or other email address. This way it protects your actual email address from being in view until you reply to a message. It is also possible to filter messages from email aliases into separate folders in an effort to automatically organize incoming emails.
As we have seen an increase in website data breaches, almost 10 billion now recorded in Troy Hunt's, "Have I Been Pwned" database. It is becoming more important to secure your online identity and try to make use of aliases as a way to do this.
Number of pwned accounts in the @haveibeenpwned database in approaching 10 billion (9,553,940,129)

— Thexyz (@thexyz) April 5, 2020
Every user of Thexyz email has the ability to create unlimited aliases and also make use of our auto aliases.
Anyone can create a free email alias with GroupList, no signup or account is required.
Why use an email Group List
Keeping touch with a group of people for free while retaining user privacy is a rare experience on the internet these days, our Group List tool aims to change that. Simply enter the email addresses of your recipients, set permissions and you will have a group list email address that will be sent to your whole group. Free for up to 200 recipients. Add your friends, family members, staff, teammates to create your own group email list.
Free domain and domain name discounts
Each month there are new discounts published on domain names, they can be found on the special offers page. Any paid Weebly plan will include free .XYZ domain name.