If a message has been delivered to your spam folder and it is not spam, you can mark it as not spam.

Login to Webmail here: https://webmail.thexyz.com

Click on your spam folder and highlight the message that is not spam
Click More at the top menu and select Not Spam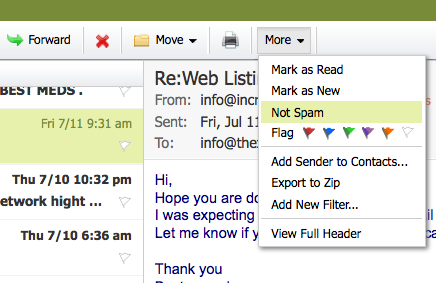 It is also possible to safelist a sender to ensure that they make it to the inbox by bypassing spam filtering. 
Report as Not Spam via email - Forwarding email as an attachment
You can also report messages as not spam by forwarding the email(s) as an attachment to notspam@thexyz.com. All messages attached in .eml, .msg, or winmail.dat format will be processed by the system.
You can also report spam via the same method using spam@thexyz.com.