Thirteen privacy-focused companies, including Thexyz, Proton, and Mozilla, have signed a letter asking House and Senate leaders to bring the American Innovation and Choice Online Act to a vote as soon as possible to allow for more competition and therefore more privacy options for consumers. This is in relation to the #AntitrustSummer campaign, from Fight For The Future and DuckDuckGo, that coordinated various technology companies representing more than 100 million users in the United States alone.
The letter is available to see on the Spread Privacy Blog by DuckDuckgo and in this post, I am to simplify what this bill means for people.
What is The American Innovation and Choice Online Act?
Big tech are not fans of the legislation
Google, Apple, Amazon, Meta and have poured US$95 million into efforts to discredit these bills.
Source: Bloomberg
More choice and less data-driven targeting and manipulation
In 2020 an antitrust subcommittee of the Judiciary Committee released a scathing 449-page report describing dozens of instances where big tech firms misused their power, revealing corporate cultures bent on doing what they could to maintain dominance over large portions of the internet.
Source: https://judiciary.house.gov
To qualify, platforms must also involve user-generated content
The legislation only applies if a company has a certain size or global reach: a market cap of at least $550 billion in the last 12 months or at least 1 billion global users.
How will the antitrust bill affect online services?
Big tech would no longer be able to design algorithms to favor their own products: The bill would end a platform's dominance to "self-preference," or favor its own products over those of competitors in rankings, search, or marketplaces. 
You may finally be allowed to uninstall the default app
Google installs its default apps on Android. Fair enough, but what if you wish to use another app? Sure, you can use the other app but you can't remove the default Google software. Even if you click uninstall, it takes you on an endless loop, of Uninstall, then Update, once you press Update, you can click Uninstall only for the Update option to reappear.
This is the same for Gmail on Android, it cannot be uninstalled, confusing many that they actually need to create a Gmail mailbox just to use their phone. Google adds its own bloatware apps to your Android mobile devices, these are added at the system level and locked by Google to prevent users from uninstalling them.
Removing dark patterns from the sign up process
Google is quite fond of Dark Patterns, you can see evidence of this when you sign up for a Google account. Many people think they need a Gmail mailbox to create a Google account. This leads to all sorts of problems when using technology as they may lose access to the Gmail account and not be able to reset a password. It often leads to Contact duplication on a mobile device as Google makes itself the default for Contact synchronization. This helpful GIF shows people all that is needed to do, to allow for creating a Google account without Gmail.
More choice and competitive pricing on flights
Search for any flight in Google and you will get a Google search box with deals Google wants you to see. These deals include a commission for Google and may not be the price. Google uses cookies to see when you're looking for flights and will bump up your prices accordingly. Sure, you can use a VPN and make yourself appear to be in your destination city or country, and also block cookies. Does the average internet-user go to these lengths when booking a flight? With this antitrust bill, they simply won't have to.
Favored search results appear at the top
Do a search for the term "email" on Google search and 4 out of the top 6 results point to Google. Amazon employs a similar practice with its marketplace and so does the Microsoft Store with its Marketplace.
Tech giants will no longer be allowed to block alternative services
Companies like Microsoft often manufacture technical difficulties for their users, by abusing their power in an effort to block people from using alternative services. Users of Thexyz email recently reported that they were unable to use Microsoft Teams. We made an
announcement
on this and included a workaround so if people have to use Microsoft Teams, we at least have a workaround. When we reached out to Microsoft, they repeatedly told us that it would
not be possible to remove the block
. The same thing was told to our friends at
Tutanota
, until the press picked up on the story. Microsoft remains blocked for users of Thexyz.
Our blog post on Zoom alternatives has some reliable options if you are blocked from using Microsoft Teams. We also have listed several alternatives to Microsoft Office, including some free, open-source projects.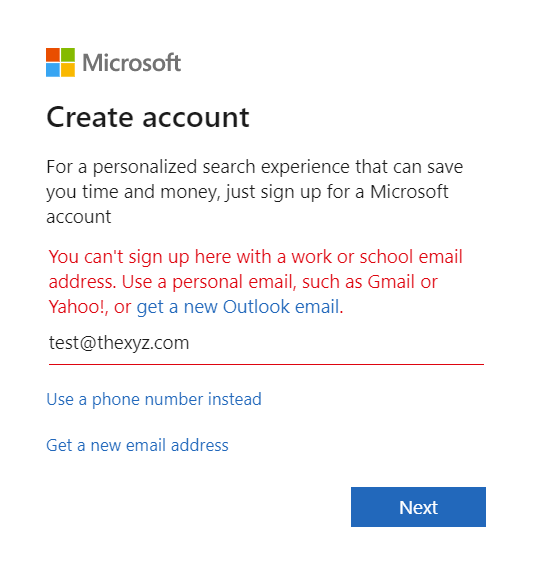 Apple would not be able to make things difficult for people and environmentally unfriendly for the planet
Apple is known for its higher-priced products. People who use Apple products are often more conditioned to purchase things that they can otherwise get for free. This is great news for iOS developers like myself who may offer an application or software for free on Android, but make it only available for purchase on iOS. There is a reason for this, to join the Google Developer Program, there is a one-time fee of $25, whereas Apple charges developers $130 per year to keep their applications listed on the iOS app marketplace. It is also much more difficult to build for Apple due to its proprietary policies. For example, when the app is ready to be uploaded, you are blocked from uploading unless you use a recently purchased Apple computer. I experienced this problem recently as the Apple computer here is over 3 years old and now past Apple's long-term support cycle. I had to get someone else to upload it for me.
Paying a subscription to unlock features you already have
Companies also couldn't impose "pay to play" restrictions as in the Vice documentary on farmers fighting John Deere's repair monopoly, called "Tractor Hacking." The AICOA bill would prevent big tech from requiring that businesses buy additional goods and services or use specific payment processors in order to access a platform. 
The Inventor, Steve Mann, often referred to as the father of wearable computing created a seat that demonstrates these kinds of paywalls in a piece called "SeatSale." 
Continue the conversation on Twitter
There has been a lot of discussion on these antitrust bills over the past few days, here are some tweets and articles in the press to continue the discussion.