Compliant Email Services & Archiving
At a minimum, information archiving provides customers with a means to address the data explosion in a manner that satisfies regulatory requirements and reduces the burden placed on IT applications such as email.
PCI DSS Compliant
Meets rigorous PCI DSS standards (Payment Card Industry Data Security Standard).
Custom retention policies
All data is stored redundantly in geographically dispersed datacenters.
AES 256 bit at rest
AES 256 bit encryption by default for all data in transit and at rest.
Export searches
Search results can be exported and downloaded in a variety of standard formats.
Double geo-location
Storage is designed to sustain the concurrent loss of data in two facilities.
Encryption
All data is secured via industry standard encryption (Defense Department AES and SSL).
Secure Email Archiving
Archiving for business
A true business grade solution to your email archival requirements.
AES encryption
Archives both internal and external mail securely (AES military strength encryption) to 8 redundant data centers.
Accessibility
Email accessible as online view, PDF, message download, or PST download.
SAN Storage
Fiber channel connections for network/SAN storage.
Realtime data
Data is accessible and searchable in real time 24X7.
Scan email attachment metadata
All message content, attachments and metadata are stored and fully indexed.
Backups & Restore
Our email archiving solution provides a centralized, accessible, and multi-functioning email repository to assist organizations with managing increasingly complex data retention, compliance, e-discovery, disaster recovery and regulatory requirements. Designed to integrate seamlessly with our hosted Exchange and Premium Webmail, Thexyz Email Archiving backs up all sent and received emails on your domain.
Ease of use
With no hardware to buy or software to install, you can be up and running within hours using our email servers.
Robust
Litigation requests often stipulate a fixed time to present information. Harnesses the power of dispersed data centers to execute archival functions for data ingestion, indexing, search, eDiscovery and export.
Unlimited email storage
Storage capacity automatically increases on a per user basis, at no additional cost. Regardless of how much email you add, you will never run out of storage, or be charged additional fees.
Within budget
Thexyz Archive is offered on a low cost per mailbox/month charge with unlimited storage. Since it is offered SaaS with no hardware or software licenses to buy, there are no capital outlay requirements.
Proactively reduce risk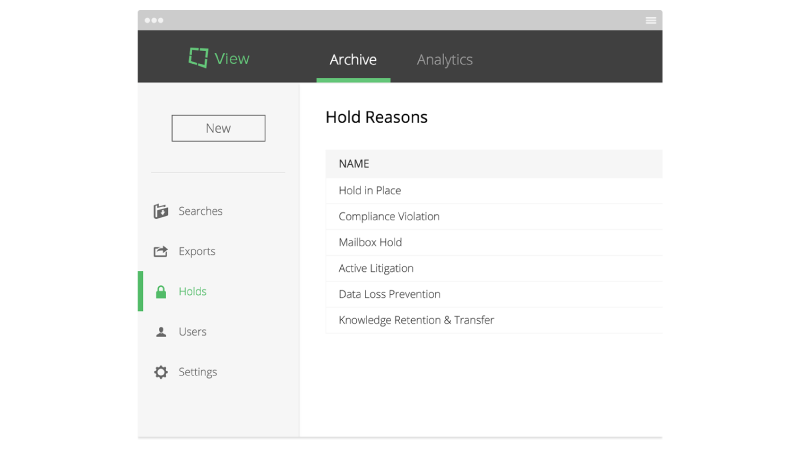 With requirements for email archiving and electronic discovery becoming better known, it is now clear that both private and government organizations are exposed to significant liability for email archiving and electronic discovery.
Avoid compliance fines and fees associated with data loss
Satisfiy regulatory requirement
Leverage geographically dispersed data centers
Find Threats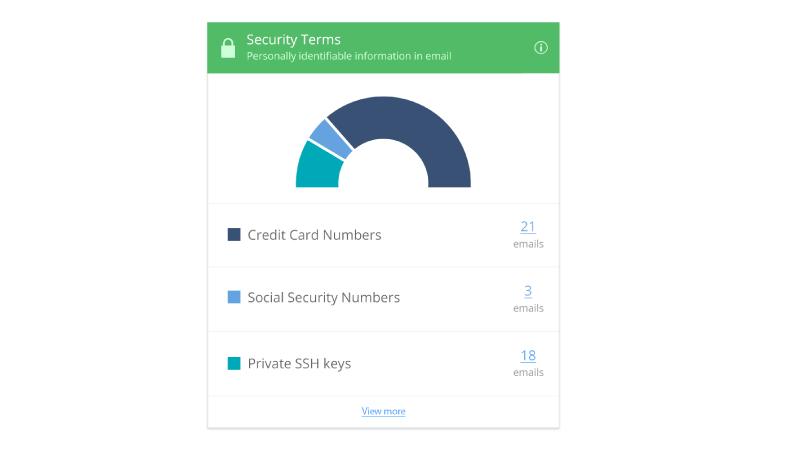 Proactively receive alerts for confidential or restricted information – anything a business wants and needs to know about in emails and file attachments.
Innovation smart cities, necessities, catalyze network facilitate assessment expert. Legal aid philanthropy celebrate amplify, fight against oppression, Bill and Melinda Gates asylum.
Protect intellectual property
Identify unusual activity
Insights harness
Sector safety
View Insights with Discovery Requests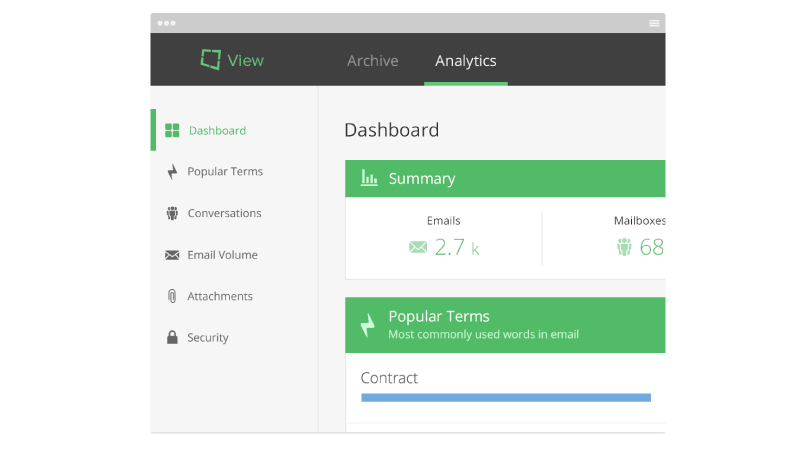 Derive actionable insights from business communications
View Insights extracts knowledge and insights from email data to help make better business decisions and improve operational performance.
Learn when sensitive information is being sent or received via your email system
Validate that confidential data is not being leaked externally
Receive notifications when emails with confidential information, profanity or compliance terminology (HIPAA, FINRA, etc.) leave the organization
Be warned when individuals display unusual email activity behavior