A Personal Storage Table (PST) file is a Microsoft Outlook data file that stores email messages, contacts, calendar items, and other data. If you have a PST file that you need to access in Microsoft Outlook, you can import the data into your mailbox using the Import/Export feature. This guide will walk you through the process of importing a PST file into your Outlook account, so you can easily access and manage all of your important information in one place. Whether you are migrating data from an older version of Outlook or consolidating multiple PST files, this guide will help you successfully import your data into your Outlook mailbox.
In Outlook, click on the File tab, then select Open and Export, and finally choose Import/Export.
In the Import and Export Wizard, select "Import from another program or file" and click Next.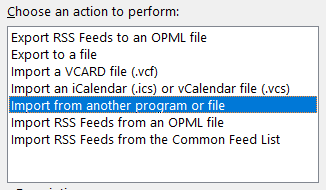 Choose "Outlook Data File (.pst)" as the file type and click Next.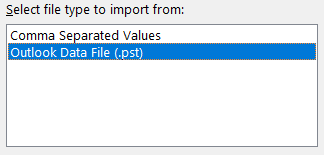 Click the Browse button to locate your PST file on your H or C drive. Select the radio button that best describes how you want to handle duplicates. Click Next.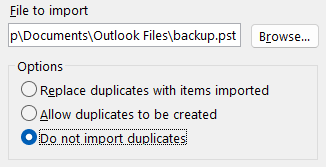 On the final screen, you can choose specific content from the PST file to import or select the entire file. Specify the destination by selecting the Online Archive for your mailbox from the drop-down list.
Click Finish to start the import process. The content will be copied into Outlook, with duplicates handled as specified in step 4.
After verifying that the content has been copied successfully, delete the original PST file from your H or C drive.
Note: After you have clicked Finish, the selected content from the PST file will be transferred to the specified destination and duplicates will be handled according to your previous selection. Once the desired content has been successfully copied into the Online Archive and you have confirmed that it is satisfactory, you can safely delete the original PST file from your H or C drive.