Thursday, March 1, 2018
If you haven't experienced for yourself just yet, we recently made some subtle but extremely useful updates to
Webmail
. These updates allow you to more easily use your Webmail and Contacts, and provide you with a better user experience. Webmail is now faster, smarter, and more intuitive!
We've spent some time improving the efficiency and scalability of our
Recent Addresses
feature. This feature
automatically
saves the email addresses of recipients that you send to from Webmail, and is now available to all users by default.

Company Directory Feature
We now create your
Company Directory
by default for every new domain. This means you will be able to easily find colleagues' email addresses from your very first login. Gone are the extra steps needed to activate this feature; we've done the work for you.

We've made
Auto-Complete
even better! Now you get auto-complete
suggestions
instantly as you type, which will save innumerable keystrokes over time. Auto-complete searches your contact data, recent addresses, and company directory so that you don't have to remember your recipient's full name or email address.

HTML Formatting by Default
Taken together, these changes add up to a streamlined Compose workflow. Compose, as you might have guessed, is one of the top used features of Webmail. Now you can zoom past the "To" field with blinding speed, and get right to what you have to say.
Now you can format your email any way you want, right out of the box. Rich,
HTML formatting
is now turned on by default, so no more fussing around to switch from plain text to HTML format.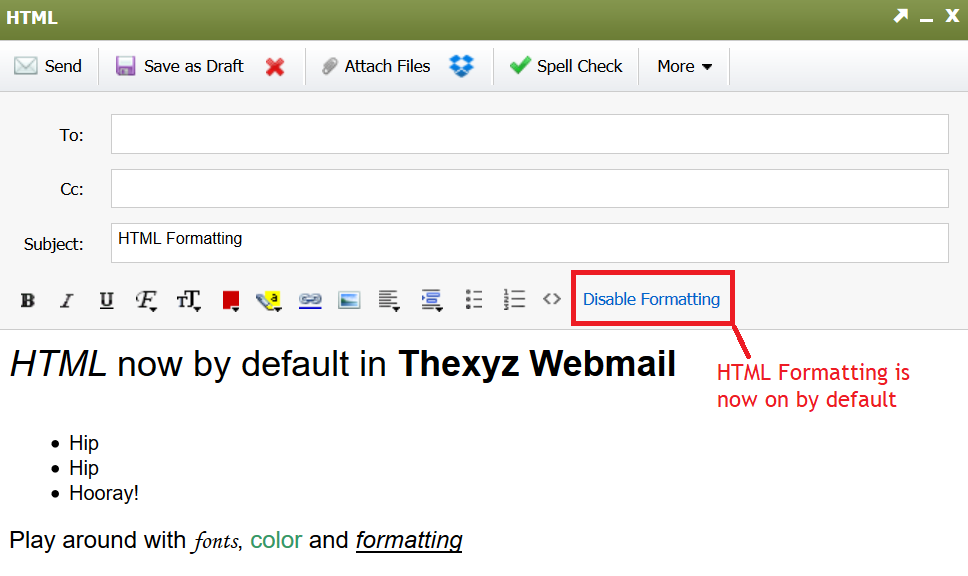 We hope you will enjoy these new improvements to Webmail. It's a great example of taking existing features and making them more accessible, performant, and useful than ever.