Since we launched a new partnership with Donuts earlier this year, it has allowed Thexyz to offer many new domain extensions as a domain registrar. This has brought a wealth of new domain registration opportunities when performing a domain search and looking for new top-level domains (TLDs).  It has allowed us to break free from the traditional, generic top-level domains (TLDs) like, .COM and .NET and offer multiple domains of choice to anyone starting an online store or project online. Today, we are happy to announce a line of domain names focused on collectivity and collaboration in the various aspects of business and social life.
.LTD
The .ltd domain is abbreviated from "limited" and the extension has been available since 2016 with its core purpose of addressing the specific needs of companies with a limited liability business model. It is a first-glance indicator of the structural, transparency-driven type of business a private limited company represents, as an entity whose customers and investors can easily check online how it is managed or traded. A perfect business website URL for any limited company. 
Also, .LTD is just the perfect extension for a company that has "Ltd." within its name. With ".ltd" featured in their domain, this way, a company can have a shorter domain name, whilst it remains relevant to the business. For example, jenkins.ltd makes a natural choice for a company named Jenkins Ltd. It is clean, short and, most of all, easy to remember. The .LTD extension can be of use for any limited liability company located in Canada, UK, or Europe, where this company structure type is popular.
Incorporated businesses in the U.S. could also make use of the extension as an alternative to "Inc." This extension can also be used by attorneys and brokers who provide LTD registration consulting services to companies or who are running educational campaigns about obtaining an LTD registration.
The .limited TLD is wide open for registration to any business worldwide, with no specific registration requirements to consider when choosing a domain. With a growing number of LTD companies registered worldwide every day, you might want to reserve your name in this lucrative niche by considering .ltd as the ending for your domain registration.
.CONSULTING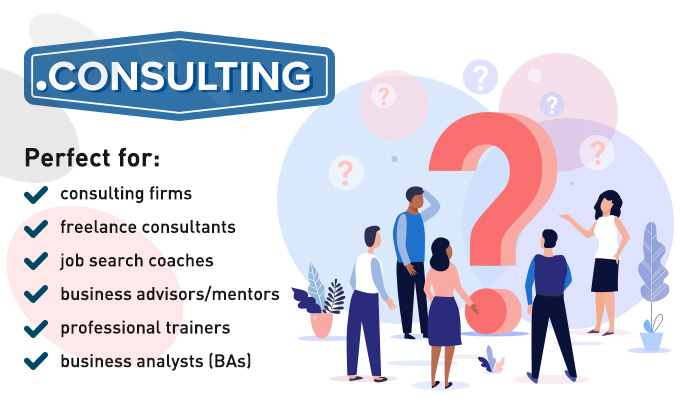 Consulting is a service that delivers the right problem solution or desired outcome to startups and small businesses. Hiring experts with the right training and license to help solve problems and achieve results within a company is a proven key to success in the modern economy.
Since launched back in 2014, the consulting industry has gained a valuable and highly expressive namespace for its online presence with this nTLD. An excellent tool for consultants and consulting agencies in the field of business management, science, and cloud-based IT to promote their services. Established in-house consulting firms, small business collaboration experts, implementation teams, or B2B consulting businesses can use .CONSULTING to better reaffirm their brand online, while independent consultants get a chance to make a name in this ever-expanding community from the early beginnings.
Another benefit to using this domain if you are a small business owner is that it is a great way for consultants, featured on portal pages or social media, to differentiate themselves from the competition crowd. Even if you don't have a website, you can forward the domain to a bio/resume or LinkedIn page, to start taking leads in a targeted way from a target audience. The domain extension creates great collaboration features and career opportunities for students in an MBA who can use it to promote their skills at an early stage and get an easier start on the expert track. Perhaps it is time to upgrade your side hustle into something full-time where you can build an online service that generates money online or passive income. The .CONSULTING TLD is wide open for registration to any consulting firm or freelancer worldwide, with no specific registration requirements to domain owners. In a time of lockdowns and social distancing, most experts are now using the internet as their primary medium for generating leads, successful collaborations, web design, and getting new clients.
.ENTERPRISES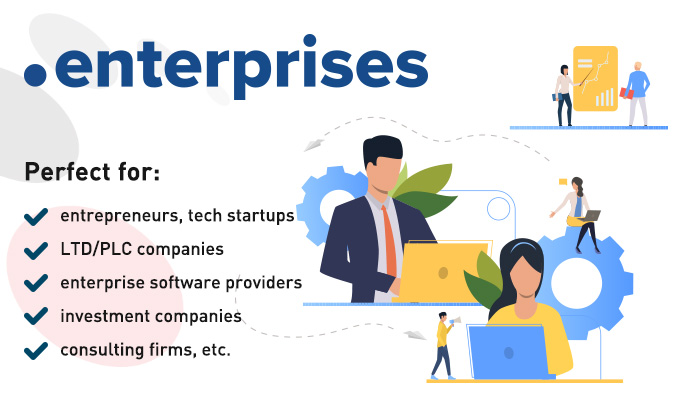 Enterprises of all types represent the backbone of the modern global economy and this extension represents a great branding opportunity for start-ups, established companies, and entrepreneurs. Kickstart new projects and connect with partners and customers with online collaboration tools through a credible and expressive online identity that is sure to have shorter availability for your chosen brand name. From sole traders and Private Limited Companies (Ltd) to Not-for-profit organizations, enterprises bring diversity and power to the global production of goods or services. Enterprises could also assign tasks, manage projects, designate startups, use communication tools, project management software, and manage entrepreneurial ventures that involve calculated risk investments or team collaboration.
The .ENTERPRISES TLD is open for registration to all types of companies and groups, with no specific registration restrictions. Given the large marketing potential this new TLD has, you now have an opportunity to register one today while there is plenty of availability.
.PARTNERS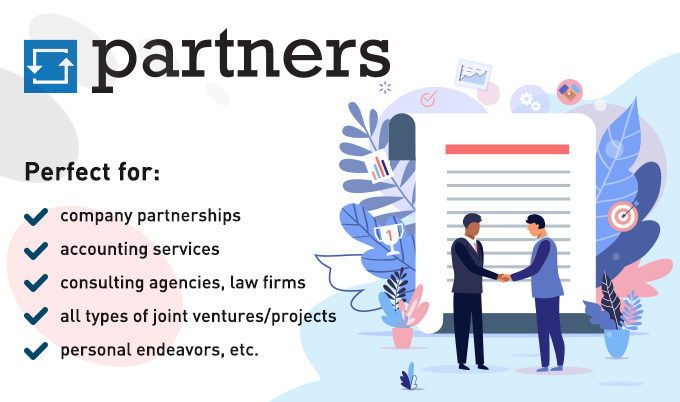 Partnerships are a primary driver of innovation in the digital economy. Coming in two varieties, general and limited, partnerships bring great trading and business opportunities to the market and make the world more collaborative. Although this domain extension is good for any type of business partnership in the field of law, consulting, investing, construction, relationship management, real estate, or any products and services.
Also, it is a great naming choice for partners in all types of ventures, projects, or personal endeavors. A good number of company names include "Partners," at the end of their name, which makes registering a .PARTNERS domain a logical choice, since it will help save on unnecessary words and characters online. Even if a business has no "Partners" in its name, it can use the TLD to form creative and authoritative web addresses such as lastname.partners or brandname.partners. The .PARTNERS domain extension is open to all types of partnerships worldwide and has no domain restrictions on registrations. Get your business ideas off to a great start with a new domain name extension that means business.
.INTERNATIONAL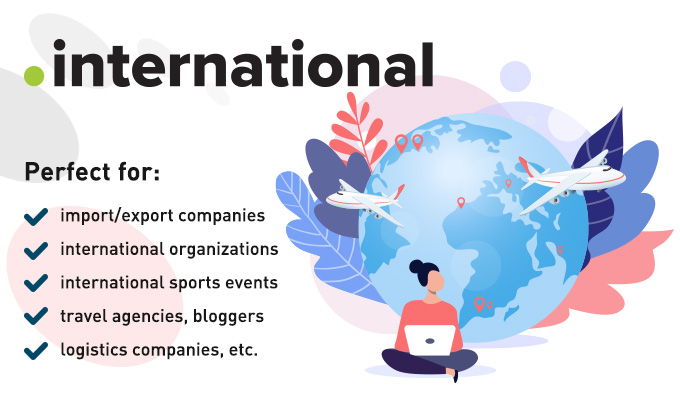 With the rapid development of communication and collaboration software, the world now seems a lot smaller than it ever has. It is now easier than ever to go global and a growing number of organizations and companies have been expanding their activity abroad in search of greater growth and economic opportunities. Whether a company operates globally in the field of communication, education, trade, logistics, cybersecurity, law or esports, etc., a .INTERNATIONAL domain name it will be immediately recognized as an international organization or successful online business. The extension is also perfect for websites looking for a long-term strategy to distinguish their international website from their regional or country-specific online presence.
Since many companies and organizations contain "International" in their name, using .INTERNATIONAL for their web address can help them save on characters within a domain name and space on URLs And since international means travel too, the extension is a perfect domain choice for outbound tour agencies, as well as for round-the-world travelers who want to share their adventures online. The .INTERNATIONAL domain extension is open to any individual, organization, and company worldwide, and has no restrictions on registrations.
.GROUP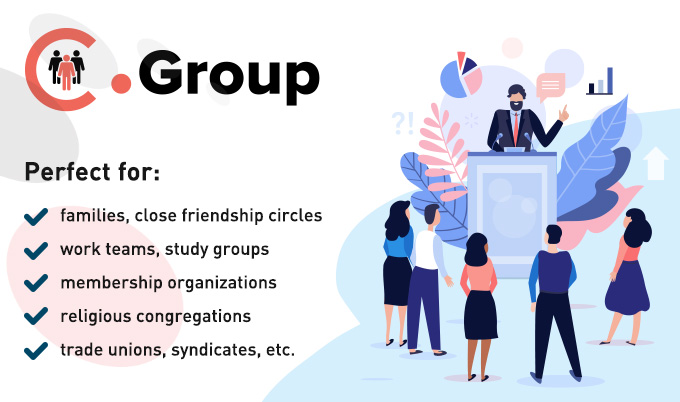 Groups are the place where like-minded people combine to find valuable help and support for effective collaboration efforts. Groups offer people an opportunity to share common interests and work on joint projects, a good idea for helping them develop a sense of identity and belonging, improve skills, values, and general attitudes.
When introduced to the public in 2016, .GROUP was recognized as the teamwork namespace for thousands of communities worldwide where members can meet, learn, discuss, and connect online. As a credible and well-targeted extension, .GROUP associates a website with a certain group, organization, or business with a goal and works well enough for any subject or interest. The extension offers a wide variety of uses—from families and close friendship circles, to work teams and study groups, or even religious congregations and gatherings. Also, it works for larger-scale communities such as trade unions and membership organizations.
With quite a few notable companies and organizations feature "Group" in their brand name, having the word built into the TLD, making this a good domain to help save space on URL characters. By utilizing an online domain where team members can contact each other through instant messages or video calling and co-operate on the day-to-day topic a group is dedicated to for internal communications, .GROUP makes online collaboration better than ever before or can be used to market any digital products to a potential customer. The .GROUP TLD is open for registration to all types of groups and communities, with no specific registration conditions to consider.
.FOUNDATION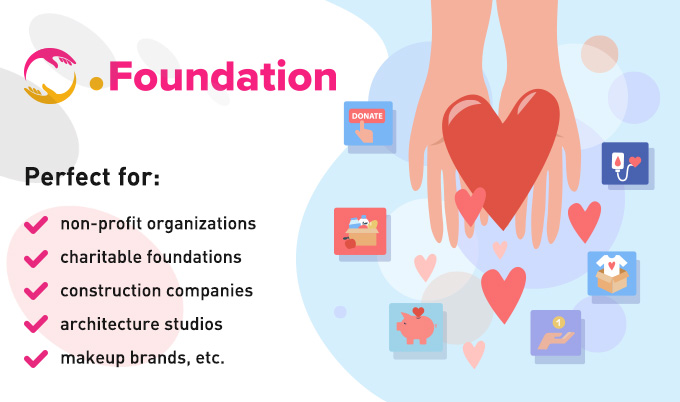 .FOUNDATION is the right extension for foundations of all types and sizes, whether charitable or private, making it easier for them to network and fundraise. Being dedicated to collecting funds for a particular cause, like improving the lives of people in need of help or aiding scientific research, education, arts, and culture, etc., foundations represent an integral part of social and cultural life. Now, non-profit and charitable organizations worldwide have their own, distinctive namespace where they can highlight their cause and management systems.
No matter if the supported cause is of social, cultural, educational, scientific, or religious nature, it can be promoted with .FOUNDATION as a domain extension. And since many non-profit organizations and charities include the word "Foundation" in their name, this TLD allows them to create a compact and precise online address, with no unnecessary words or characters after the dot. The .FOUNDATION domain extension is open to any organization and company worldwide, with no specific registration requirements to follow.
New TLDs – registration details
You can register any of these domains in real-time through Thexyz for a registration period of 1 to 10 years and enable auto-renew so you do not need to renew your domain each year before the expiration date. To help address security concerns, you can also add Whois Privacy Protection, offered as an add-on service at the point of registration to protect personal information from being in public view, as well as a DNSSEC feature, available for free. Any domains added to our environment will also be able to use our free Website Builder with included free SSL certificate and free web hosting.
Apart from offering organizations and companies the opportunity to register their exact name with no unnecessary words or characters, the new TLDs also hold a great SEO value. By allowing you to include keywords in the URL itself, they help you improve your search engine visibility.
With the exact topic of your business or social goal featured in the site name, you will be discernible in the crowd of legacy web addresses. And this makes your site more clickable and, thus, helps boost the organic score of your website. Even if you don't have any use in mind for a new domain extension just yet, you can set it aside for affiliate marketing or email marketing activities so they are not on your main domain name. Have a look at our full list of available domains with the registration fee and be sure to avoid registered trademarks when buying a new domain.